TEAM ::: NEW YORK METS
LOCATION ::: FLUSHING, NEW YORK
MY FIRST GAME ::: JULY 16,1977
OPPONENT ::: PITTSBURGH PIRATES
MY MLB STADIUM RANK ::: 26 of 41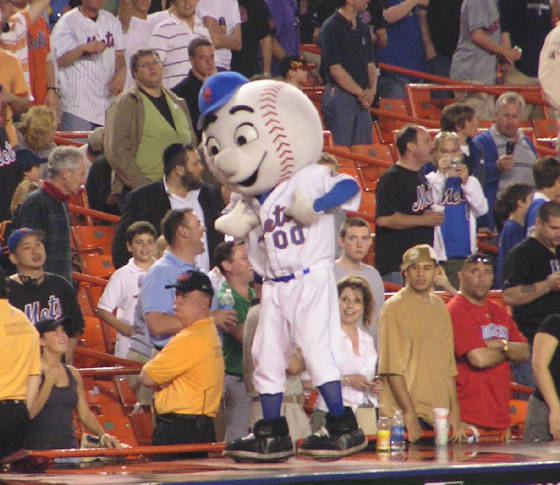 RATINGS
BALLFIELD ::: A+
SCOREBOARD :: A+
FOOD :: B
FACILITIES ::: C+
MASCOT ::: A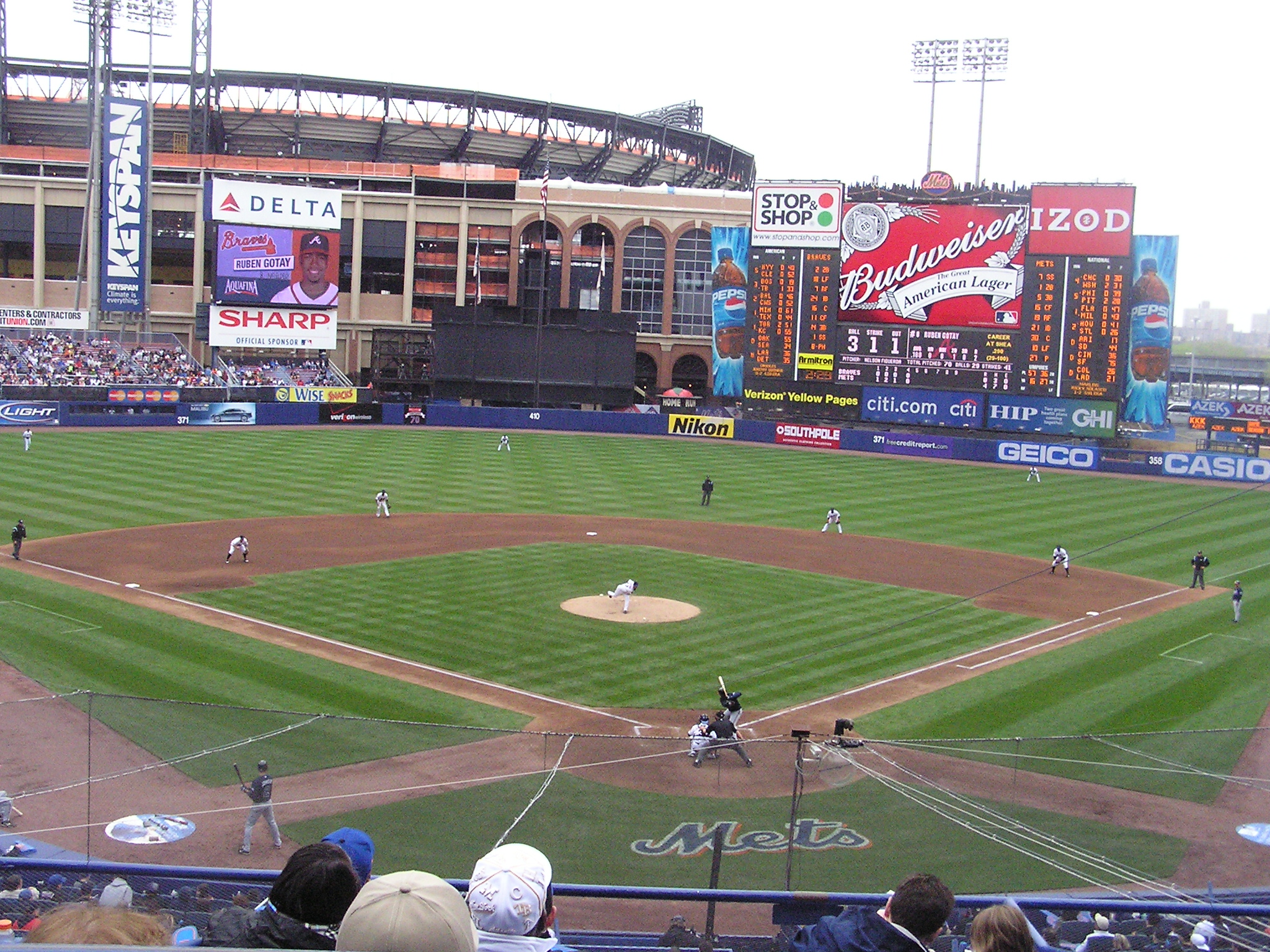 MY TAKE ON THE PARK
WHEN REVIEWING SHEA STADIUM I HAVE TO LOOK AT IT TWO WAYS. ONE AS A NINE YEAR OLD BOY GOING TO MY FIRST BASEBALL GAME. THE OTHER AS A MODERN DAY BASEBALL FAN WHO IS NO LONGER IMMUNE TO TRAFFIC AND OTHER LIFE REALITIES.
LET'S FIRST LOOK AT THE POSITIVES, SHEA'S FIELD, WHICH STAYS A DARK EMERALD GREEN FROM APRIL TO OCTOBER, DESPITE THE HARSH NY WEATHER, MAKING IT THE FINEST LOOKING IN BASEBALL. AS GOOD AS SHEA'S FIELD LOOKS ON TELEVISION, IT REALLY IS THAT MUCH BETTER IN PERSON.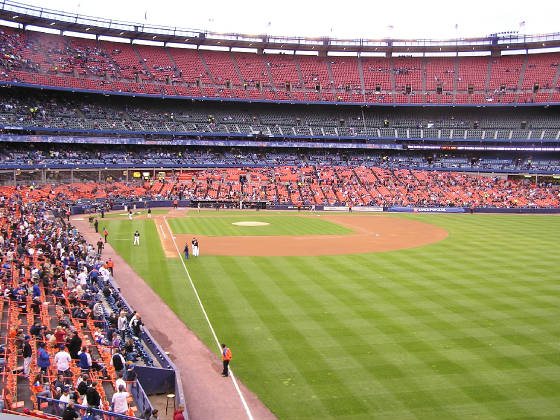 THEN THERE IS SHEA'S SCOREBOARD, A GIANT BOARD IN RIGHT FIELD WHICH GIVES YOU THE LINE SCORE, OUT OF TOWN SCORES, AND LINE - UPS ALL NIGHT LONG WITHOUT MISSING A BEAT. THE BOARD HAS BEEN UPDATED A FEW TIMES OVER THE YEARS, GOING FROM A MESSAGE BOARD TO A BEER AD TO BOTH. IN LEFT FIELD, A 17 YEAR OLD DIAMOND VISION KEEPS YOU UP TO SPEED ON REPLAYS AND PLAYER PHOTOS.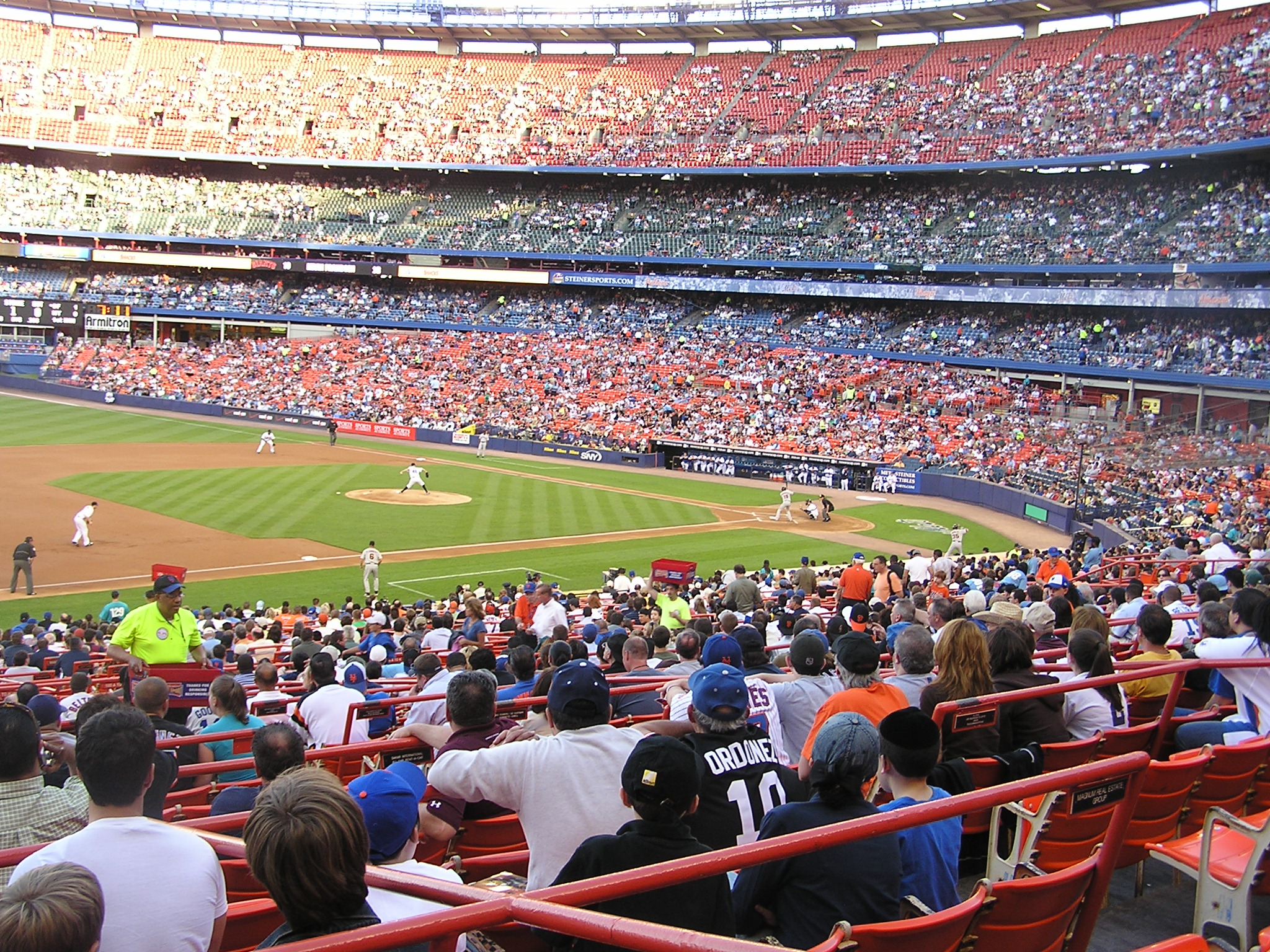 THE DOWNSIDES, WELL GETTING TO SHEA BY CAR ISN'T AS TOUGH AS YANKEE STADIUM. HOWEVER, IF A LARGE CROWD IS EXPECTED, SHEA DOESN'T SEEM MUCH DIFFERENT. NARROW EXIT RAMPS LEAD INTO SHEA AND A SEEMINGLY LARGE PARKING LOT FILLS QUICKLY WITH THE ONLY OTHER PARKING OPTIONS A LONG WALK TO THE GATE.
SHEA'S USHERS AND SECURITY PERSONNEL ALSO SEEM TO HAVE PROBLEM WITH LIFE IN GENERAL, LET'S JUST SAY THAT THEY MAY NOT BE NASTY, BUT FOR A BALLPARK THEY ARE DOWN RIGHT MISERABLE. ONCE PAST THE GROUCHY OLD TICKET TAKER, YOU MUST GUIDE YOUR WAY THROUGH THE DARK INTERIOR OF THE STADIUM, WHILE GOING UP THE ESCALATORS, LOOK DOWN AT ALL THE BEER KEGS THAT WILL BE USED FOR TONIGHT'S GAME.
BY THE WAY, DID I HAVE TO MENTION THE PLANES??
OF THE 32 MAJOR LEAGUE PARKS I HAVE ATTENDED, I RATE SHEA 19TH, BEHIND RFK STADIUM BUT AHEAD OF MILWAUKEE COUNTY STADIUM. IF YOU GO TO SHEA BY CAR, LEAVE AN HOUR EARLIER THAN YOU EXPECTED TO, YOU WILL NEED MOST OF THAT HOUR TO SIT ON THE EXIT RAMP OFF THE VAN WYCK.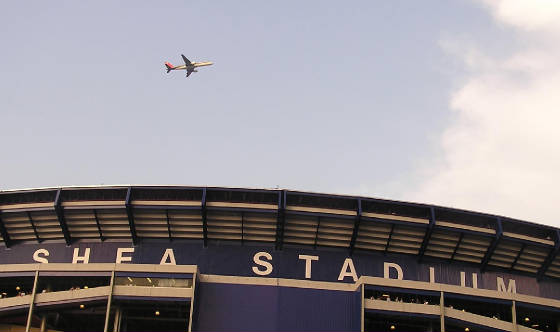 ALSO, HAVE AN IDEA OF WHERE YOU WILL BE SITTING BEFORE YOU GO TO AN USHER, IF YOU ARE IN THE WRONG SECTION HE WILL NOT BE PLEASED THAT YOU ARE WASTING HIS TIME TO DIRECT YOU. ONE LAST THING, BRING SOMTHING FOR YOUR EARS, SHEA IS RIGHT NEXT TO LaGUARDIA AIRPORT AND YOU MAY HAVE A PLANE PER INNING, IF YOUR LUCKY.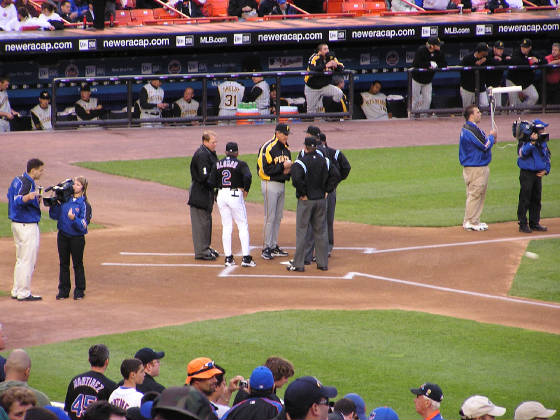 THE LINE UPS
PITTSBURGH PIRATES :::
CHUCK TANNER
NEW YORK METS :::
JOE TORRE
PITTSBURGH PIRATES
3 Phil Garner 3b
14 Ed Ott c
35 Dave Parker rf
16 Al Oliver cf
28 Bill Robinson lf
8 Willie Stargel 1b
6 Rennie Stenett 2b
11 Mario Mendoza ss
25 Bruce Kison p
54 Rich Gossage LP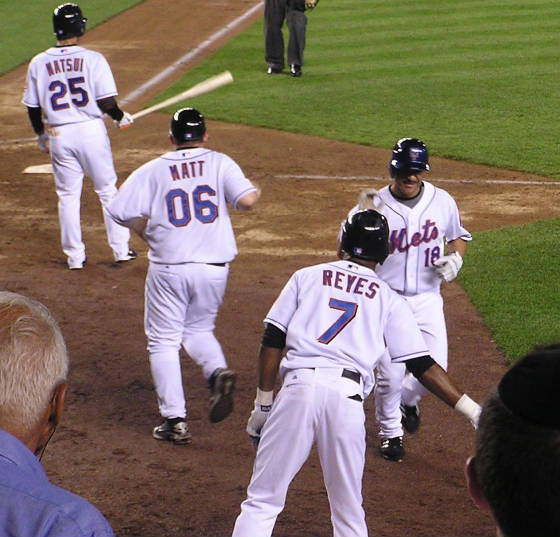 NEW YORK METS
11 Lenny Randall 3b
17 Felix Millan 2b
5 Steve Henderson lf
6 Mike Vail rf
7 Ed Kranpool 1b
12 John Stearns c
16 Lee Mazzilli cf
23 Doug Flynn ss
27 Craig Swan p / WP
34 Bob Apodaca S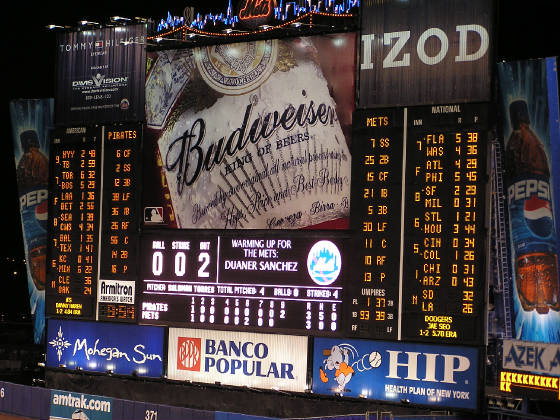 PIRATES 000 201 000 3 5 1
NY METS 000 110 21x 5 9 0
TIME ::: 2:09
ATTENDANCE ::: 24,445
WEATHER ::: SUNNY, WARM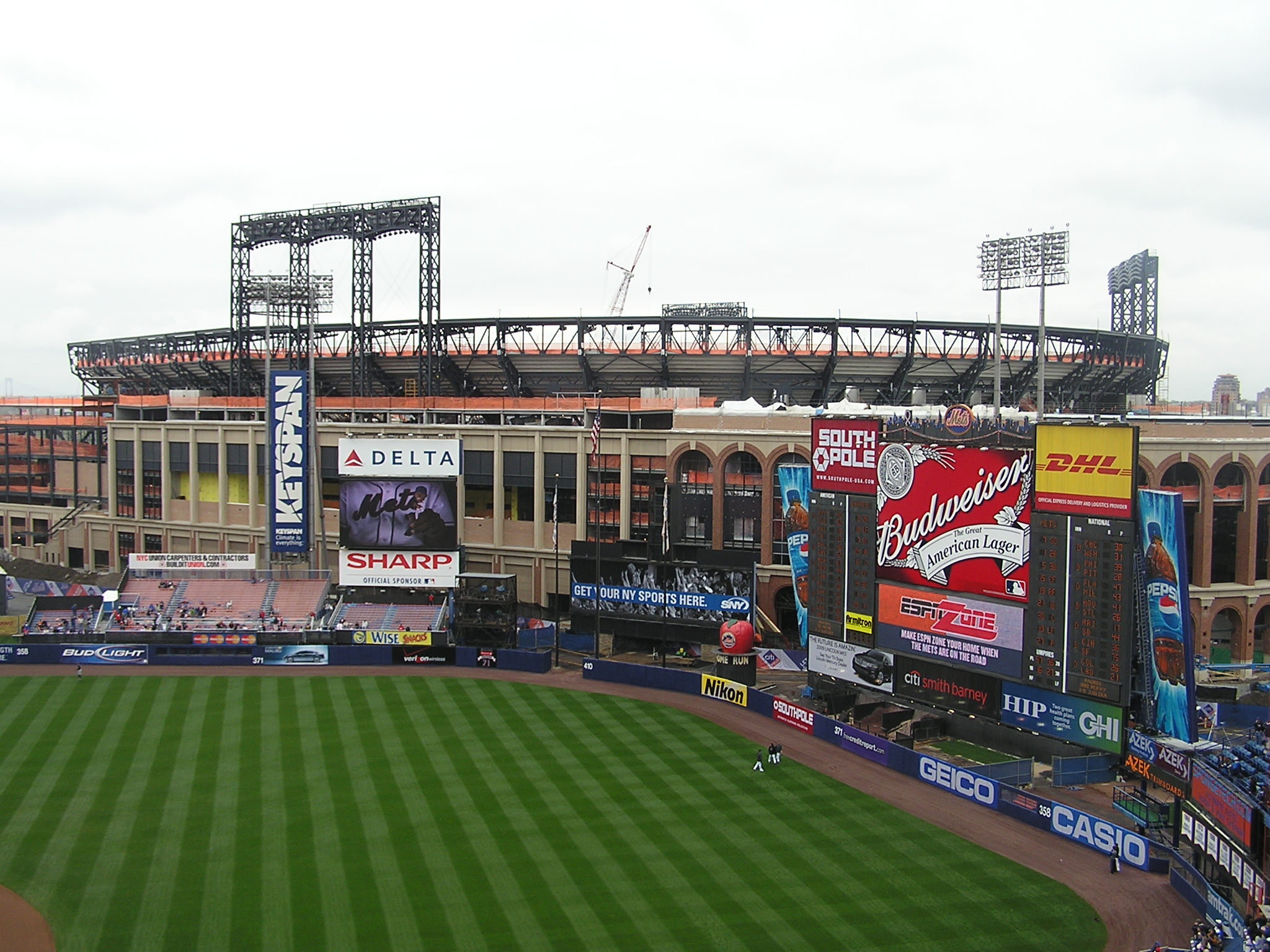 SEND ME AN E-MAIL


LINKS
The Official site of the New York Mets
The Box Score from my first game in 1977
Where the Mets play now - My Citi Field site
A travel planner around Shea from MSN
Queens weather from WEATHER.com

My Last Shea Stadium update

© 2000-2012 UNCLE BOB'S BALLPARKS
I AM IN NO WAY AFFILIATED WITH ANY OF THE TEAMS ON THIS PAGE ... THIS PAGE IS MEANT FOR INFORMATION PURPOSES ONLY.